Is "Ask HR" your company catch-all?
You need a secure and simple way to house, access and report on workforce data.
Create a unified workplace.
The world of work is changing quickly, but with an easily-mastered HR platform, you can keep everyone connected to home base from wherever they happen to be working.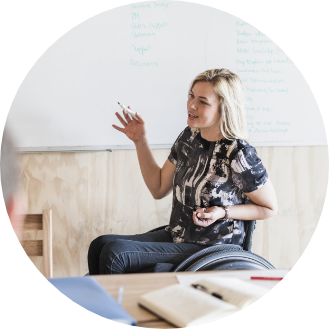 Spend more time on the big picture.
When employee information is organized and details flow from payroll to HR (rather than rekeying data!), you can finally reduce paperwork and focus on people.

Employee personal info is valuable. Make sure it's secure.
Deliver digital pay statements, tax forms, and confidential documentation through secure Employee Self Service.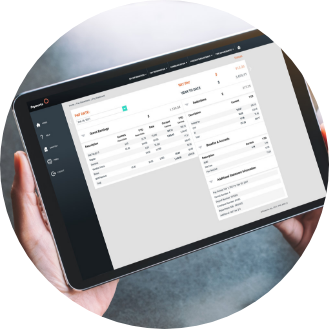 Human Resources solution features
Our HR platform is a comprehensive solution, ensuring HR practitioners have all the tools and functions required to manage their teams like the pros they are.
Easy Onboarding
Start new hires off on the right foot with a welcome email and by sharing important company documents. Set up automatic notifications to let others know when someone new is joining the team.
Compliance
Read/acknowledge features for company policy documents and the ability to configure to your business and provincial legislation means your compliance requirements are covered.
Employee Database
Manage all employee personal information like licenses and certifications, emergency contacts and company asset tracking in one spot.
Online Filing Cabinet
Lock away employee documents and company property information in our cloud-based database. You'll have access when you need it, from wherever your desk is located right now.
Performance
Track employee skills and education, as well as documentation related to reviews and disciplinary action.
Reporting
Leverage our comprehensive library of standard reports or try the user-friendly Custom Reports Builder for ad hoc reporting.
Organizational Chart
Visualize employee-to-employee relationships and keep track of your growing company.
Notifications
Save time by using smart features like pre-defined and scheduled notices when changes occur to employee information (or for anything else that requires a reminder).
Benefits
Integrate with our partner plans or streamline administration with your current insurance provider for serious time savings.
HR Analytics tells the story.
Paired with HR, Analytics allows you to view trends in headcount and turnover alongside company demographics to help you better understand your workforce.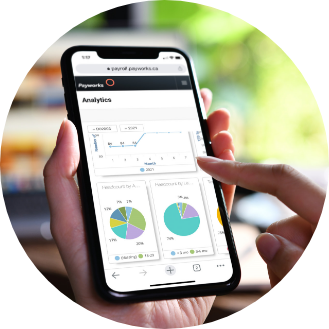 You call, we answer.
We provide personalized, dedicated support and take the time to get to know you and your business.
Get HR insights delivered to your inbox.
Flip through articles written by our industry experts.
We're better together.
We offer several products designed to work together to help HR professionals take the best care of their teams.