The entire employee life cycle. One powerful platform.
You're never really off the clock, but we can help you find more time to focus on what matters most.
1-75 employees
Spend less time processing payroll and more time growing your business.
You need scalable solutions for today's evolving workforce.
Explore configurable options for the entire employee life cycle - from onboarding to departures and everything in between.
We offer products and support tailor-made for franchises.
Manage multiple locations, import POS data and control payroll costs with ease.
Accountants and bookkeepers trust Payworks to get it right.
When it comes to your book of business, only the best will do. Let us show you why accounting professionals count on Payworks.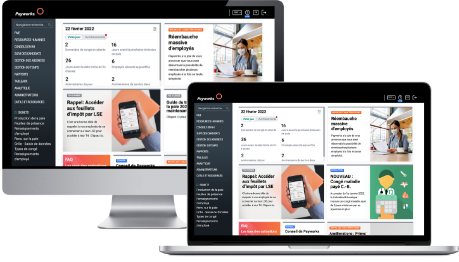 How much will the perfect solution cost you?
Glad you asked! Get your quote in seconds, no strings attached.
We offer an all-in-one solution with the industry's best customer service.
Whether you're looking for a simple solution to payroll or a Canadian HCM platform to manage a hybrid workforce, you've come to the right place.
Five-Step Onboarding
By onboarding 4,000+ clients a year, we've fine-tuned the experience. Plus, your dedicated implementation specialist will make sure your first run goes off without a hitch.
Year-End Made Easy
We offer helpful checklists, and tax form information is submitted to CRA/MRQ on your behalf at no extra charge.
No Surprises
You can count on affordable, transparent pricing with no upgrade costs or license fees.
Seamless Integration
From Payroll to HR, all of our products share a common database. This means one system of record and zero data rekeying.
A Canadian Platform
As a 100% Canadian owned and operated business, we understand what it takes to stay compliant with legislation right here at home.
Your Data Stays Here
We maintain two national data centres to keep your valuable employee information in Canada.
Compliance is Covered
Overtime calculations, pre-set provincial rules and having remittances submitted on your behalf mean you're always on the right side of compliance.
Modern UI
No IT support required. Implementing new tech like mobile self service and online timesheets is easy with our user-friendly interface.
Funds Management
Payworks adheres to industry-leading governance and funds management practices to ensure clients can pay their employees with confidence.
You call. We answer.
We invest in getting to know you and your business because we understand how important consistent, personalized service is to our clients' success.